LABBC
The Los Angeles Better Buildings Challenge uses WegoWise to automate utility data collection for hundreds of buildings, track performance of key efficiency upgrades, and streamline its program administration.
The Goal: 20% Energy Reduction by 2020
The Los Angeles Better Buildings Challenge (LABBC) is a utility-funded initiative that encourages L.A. real estate owners to make social and environmental responsibility a priority. It is part of the Better Buildings Challenge, a national program sponsored by the U.S. Department of Energy that calls on the public and private sectors to demonstrate the benefits of modernizing America's existing buildings.
LABBC acts as a guide to help its 40+ participants find resources and incentives to maximize ROI for their efficiency upgrades. Program participants take a pledge to achieve a 20% energy and water savings in their buildings by 2020. In doing so, they tap into LABBC's network of tools and partners that help them meet and exceed that goal.
The response by local property owners has been tremendous – we hit our 30M square foot goal – and now we are focused on executing projects and measuring the results.

– Dave Hodgins - Executive Director, LABBC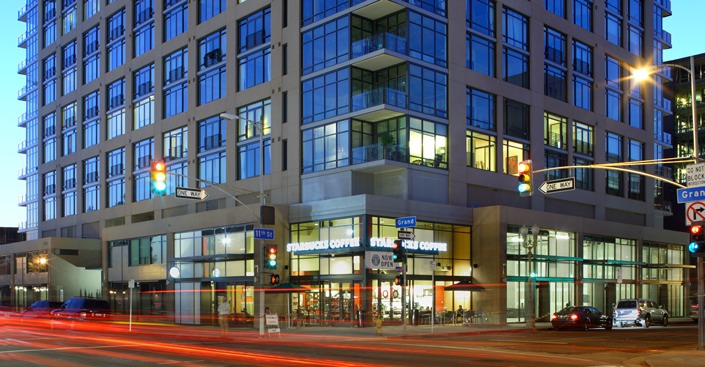 Enabling Environmental Leaders to Exceed Goals
The first thing that LABBC participants do is benchmark their buildings in WegoWise, allowing them to compare performance both within their own portfolio and against WegoWise's database of nearly 50,000 multifamily buildings. Using WegoWise, project teams identify opportunities within their portfolio before a single audit is scheduled.
LABBC partners use WegoWise's visual comparisons to make smart decisions during project development, focusing audits on those buildings with the greatest potential for improvement. Targeted auditing keeps costs down and projects on schedule, no small feat for a program that has enrolled over 42 million square feet with more on the way. After project completion, LABBC members use WegoWise to track ongoing performance, quantifying savings and ensuring that upgrades perform as expected.
The City of L.A. - Maximizing Resources with the Right Tools
The City of Los Angeles joined the LABBC to help organize its own efficiency retrofit strategy. Now, staff in charge of capital improvements in city-owned facilities use WegoWise to look at the relative energy and water use across 250 buildings in the city's portfolio. By comparing the utility consumption of buildings within its portfolio, the city has deeper insight into how physical characteristics like age and condition relate to energy and water use.
WegoWise has been crucial to organizing and operating our program.  We use the tool to streamline our tracking and reporting process, and the support we've gotten from WegoWise staff has helped us build out the program faster than we had expected.

– Dave Hodgins - Executive Director, LABBC
WegoWise simplifies L.A. building comparisons by providing analytical tools and a richer dataset than was previously available to the capital improvement team. Automated data collection has saved hours of staff time, freeing personnel for higher-value projects. Using the WegoWise platform to augment its expertise, the city is running a data-driven energy management plan that leverages valuable staff resources to yield greater environmental impact and ultimately increased savings.
The Big Win: Streamlined Program Administration
After researching available tools to help administer the program across its 40 member organizations, LABBC found that the affordable, scalable WegoWise platform would provide the greatest time savings and value to program administrators and participants.
For LABBC, WegoWise simplifies and organizes the backend of a complex program. Freeing up time means that program staff members can focus on working with their member organizations and developing partner relationships. By automatically retrieving monthly utility data, aggregating it for analysis, and exporting it to ENERGY STAR® Portfolio Manager, WegoWise now empowers them to do just that.