Take a quick tour with Ed, the property managing panda!
See how Ed saves money and makes his life easier by using WegoWise to track and benchmark his entire portfolio of properties.
Automatically Manage Your Utility Data
Managing and collecting utility data across a portfolio of buildings is an expensive problem. WegoWise saves you time, money and toil. With no hardware or data entry required, WegoWise automatically imports data from hundreds of utility companies across North America. All that's required is a one-time setup with your username and password and WegoWise will do the rest.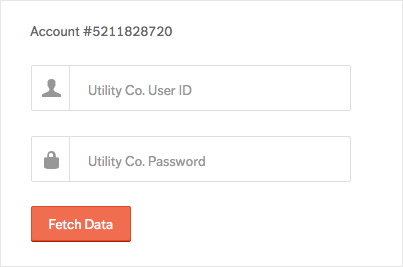 We think you should be spending your time making your buildings more efficient, not typing data into spreadsheets.
Download Your Raw Data
Utility data in WegoWise belongs to you, and it's as easy to get data out of WegoWise as it is to get it in. It's simple to download your energy and water data for reporting and independent analysis.
Normalized to Calendar Months
WegoWise normalizes your data to calendar months and rolls up meter data to the building and property level. For example, if you need the cost of electricity per apartment for the last year across all buildings, you can get that with a few clicks.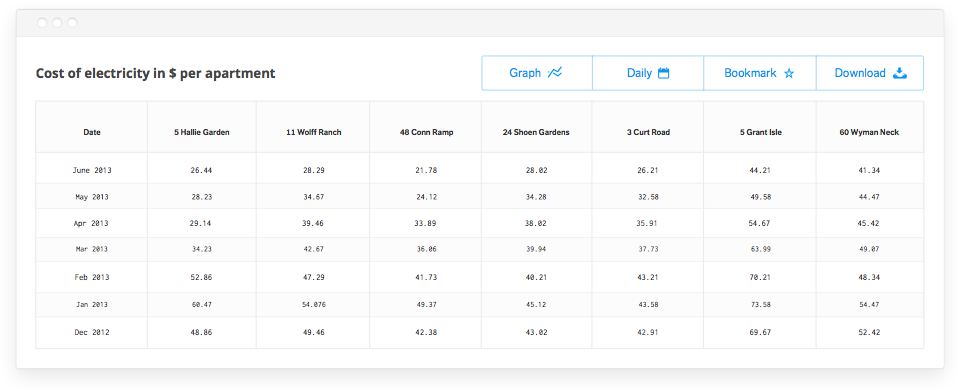 Following the one-time setup, your utility data will automatically flow into the WegoWise platform each month for ongoing tracking and analysis. You can compare utility usage across buildings, developments, regions, retrofit categories, and other customized groupings. You can also compare across tenant units within a given building.

Benchmarking energy and water usage provides the foundation for improving the efficiency of your buildings. Armed with an understanding of how your buildings perform compared to similar buildings, you can prioritize action using data instead of hunches.
Benchmarking takes the guessing out of efficiency investment.
Three methods for benchmarking.
1

Within Your Portfolio

A comparison within your portfolio, highlighting the relative efficiency and cost of the buildings you oversee.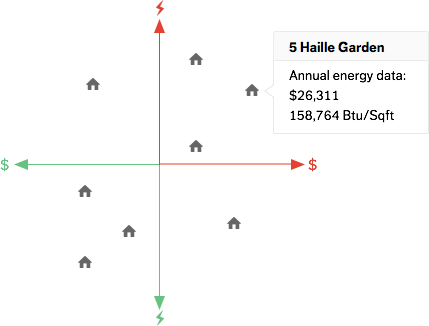 2

Peer Group Comparison

Our industry-leading database of real-world energy and water data to show how you stack up to your peers.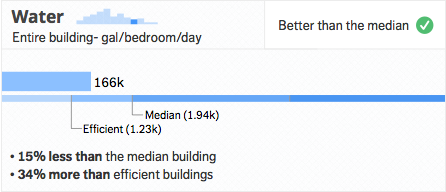 Identify Savings Potential
Are you interested in reducing your utility costs but in the dark on where to begin? WegoWise helps you quantify the savings potential of each of your buildings. In addition to assessing savings potential these reports help you forecast your utility budget.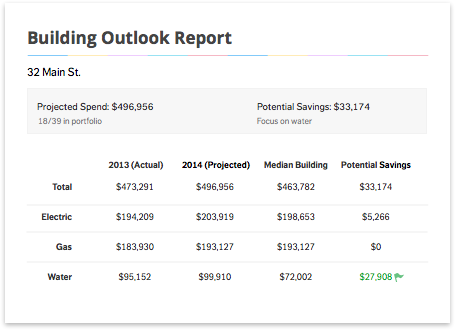 Planning and budgeting requires predictable utility costs. Leaky toilets, equipment failure and utility bill errors can cause sudden spikes in costs. WegoWise helps you identify and address issues before they get out of hand.

Measure and Verify Savings
You invest in building upgrades and retrofits, but how do you measure the results? How do you communicate those results to stakeholders? And how do you determine which efficiency investments are worth replicating in other properties? Our tools help you accomplish all of this. Our premium reports follow IPMVP Option C Measurement & Verification protocol.
WegoWise makes measurement and verification easy with crystal clear graphs and reports.

Custom Analysis and Reporting
Want to compare your new LEED-certified high-rise to other LEED high-rise buildings built in the last five years within the same city, adjusted for square footage?
WegoWise helps you perform this kind of refined analysis with the click of a mouse.