Get started with WegoWise
Let's get started making your buildings more efficient!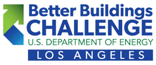 20% Energy Savings in L.A. by 2020
The City of Los Angeles has set a goal to achieve 20% energy savings across 30 million square feet of existing buildings by 2020. This is part of the Better Buildings Challenge, a national leadership initiative sponsored by the U.S. Department of Energy that calls on public and private sector leaders to take action and demonstrate the benefits of modernizing America's existing buildings.
Stimulating Economic Growth
Achieving this goal will significantly reduce operating costs while freeing up capital for more productive uses, enhancing tenant comfort and productivity, boosting market competitiveness, creating over 7,000 high-quality local jobs, and averting annual CO2 emissions equivalent to taking over 18,000 cars off the road.
Organizations committing to the Better Buildings Challenge agree to:
Conduct an energy efficiency assessment of their buildings portfolio.
Take action by implementing a plan to achieve lasting energy savings.
Report results by sharing cost-effective approaches for saving energy.
A National Leadership Initiative
Los Angeles is proud to be one of the first cities selected to participate in this important initiative. By choosing to take up the Challenge, you and your company are among a select group of visionary leaders that will propel Los Angeles towards its goal of becoming the most economically competitive most sustainable large city in America.
By creating a WegoWise account through this portal, you agree to share your property data with LA Better Buildings Challenge.
What would you like WegoWise to help you with?
Track your utility consumption at a single residential property. This account type does not allow multiple buildings to be tracked.
Home
My house or apartment